Posts for: October, 2014
By Geary Dentistry
October 24, 2014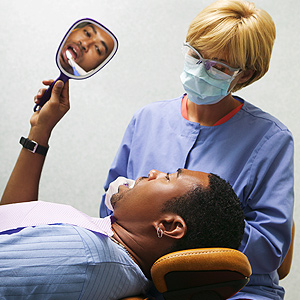 Every good oral hygiene regimen has two parts — the part you do (brushing and flossing) and the part we do (professional cleanings and checkups).
But what's involved with "professional cleanings" — and why do we perform it? The "why" is pretty straightforward — we're removing plaque and calculus. Plaque is a thin film of bacteria and food remnant that adheres to tooth surfaces and is the main culprit in dental disease. Calculus (tartar) is calcified plaque that occurs over time as the minerals in saliva are deposited in bacterial plaque. It isn't possible for you to remove calculus regardless of your efforts or hygiene efficiency. Ample research has shown that calculus forms even in germ-free animals during research studies, so regular cleanings are a must to keep you healthy.
The "what" depends on your mouth's state of health and your particular needs. The following are some techniques we may use to clean your teeth and help you achieve and maintain healthy teeth and gums.
Scaling. This is a general term for techniques to manually remove plaque and calculus from tooth surfaces. Scaling typically encompasses two approaches: instruments specially designed to remove plaque and calculus by hand; or ultrasonic equipment that uses vibration to loosen and remove plaque and calculus, followed by flushing with water and/or medicaments. Scaling can be used for coronal maintenance (the visible surfaces above the gum line) or periodontal (below the gum line).
Root planing. Similar to scaling, this is a more in-depth technique for patients with periodontal disease to remove plaque and calculus far below the gum line. It literally means to "plane" away built up layers of plaque and calculus from the root surfaces. This technique may employ hand instruments, or an ultrasonic application and flushing followed by hand instruments to remove any remaining plaque and calculus.
Polishing. This is an additional procedure performed on the teeth of patients who exhibit good oral health, and what you most associate with that "squeaky clean" feeling afterward. It's often performed after scaling to help smooth the surface of the teeth, using a rubber polishing cup that holds a polishing paste and is applied with a motorized device. Polishing, though, isn't merely a cosmetic technique, but also a preventative measure to remove plaque and staining from teeth — a part of an overall approach known as "prophylaxis," originating from the Greek "to guard or prevent beforehand."
If you would like more information on teeth cleaning and plaque removal, please contact us or schedule an appointment for a consultation. You can also learn more about this topic by reading the Dear Doctor magazine article "Teeth Polishing."
By Geary Dentistry
October 09, 2014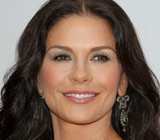 She received an academy award for best supporting actress in Chicago (2002); she regularly stars in big Hollywood films like Oceans Twelve and Side Effects. And she's been named one of People magazine's "most beautiful people" of the year… a total of five times so far. According to big-screen heartthrob Antonio Banderas, "She has one of the most beautiful close-ups in cinematography today."
So would it surprise you to learn that Catherine Zeta-Jones had a little help from cosmetic dentistry along the way? In her childhood, the actress said, "I was teased because I had a really flat-looking nose, and before I got braces, my teeth used to stick out a bit." According to press reports, she has also had various dental treatments to make her teeth look whiter and more even.
Because she's been in the spotlight since a young age, Zeta-Jones had her cosmetic dental treatments performed over a number of years. But if you're unhappy with your smile right now, there's no need to wait: Getting a complete "smile makeover" starts with a consultation at our office. How does it work?
We begin with a thorough dental exam to check for any underlying issues, and some basic questions, including: What do you (and don't you) like about your smile? Are your teeth as even and as white as you'd like them to be? Is your smile too "gummy", or do the teeth seem too large or small in proportion to your facial features? Do gaps, chips or cracked teeth detract from your appearance?
Next, working together with you, we can develop a plan to correct any perceived problems in your smile. We've already mentioned two of the most common ways to enhance a smile that's less than perfect: orthodontics for straightening crooked teeth, and whitening treatments for a more brilliant smile. If your teeth are otherwise healthy, both treatments can be performed at any time — in fact, more and more of today's orthodontic patients are adults.
Other treatments that are often used include cosmetic bonding to repair small to moderate chips or cracks in teeth; crowns (caps) to restore teeth with more extensive structural damage; and veneers to remedy a number of defects — including discoloration, small irregularities in tooth spacing, and even teeth that appear too long or too short. Plus, we have even more procedures designed to remedy specific dental issues.
Will having a better smile get you on the "most beautiful people" list? We can't say for sure. But we think you'll feel better about yourself… and people will notice.
If you would like more information on smile makeovers, please contact us or schedule an appointment for a consultation. You can learn more in the Dear Doctor articles "The Impact of a Smile Makeover" and "Great Expectations — Perceptions in Smile Design."