Posts for tag: nutrition
By Geary Dentistry
May 01, 2018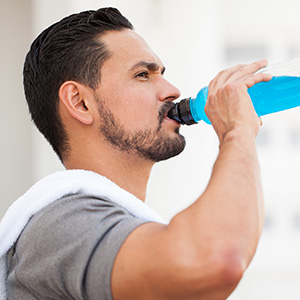 In the sports world, athletes are always looking for an edge. And it's not just college or professional sports—even Little Leaguers are focused on enhancing their performance.
That's why sports and energy drinks have rocketed in popularity. With marketing pitches promising to increase stamina or replace lost nutrients from strenuous workouts, it's not unusual to find these beverages in sports bags or the team water cooler.
But there's a downside to them regarding your dental health—they're often high in sugar and acidity. Both drink types could increase your risk of tooth decay or periodontal (gum) disease over time.
Sugar is a primary food source for the bacteria that can trigger a gum infection. They also produce acid, which at high levels can erode tooth enamel and lead to tooth decay. The risk for enamel erosion also increases with the drink's acidity.
You can lessen your risk of these unpleasant outcomes by restricting your consumption of these beverages. In fact, unless your sports activity is highly strenuous for long periods, your best hydration choice is usually water.
But if you do drink a sports or energy drink for an extra lift, be sure to take these precautions for the sake of your teeth:
Try to drink them only at mealtimes. Continually sipping on these drinks between meals never gives your saliva a chance to neutralize mouth acid. Reserving acidic foods and beverages for mealtimes will allow saliva to catch up until the next meal.
Rinse with water after your drink. Water usually has a neutral pH. This can help dilute mouth acid and reduce the mouth's overall acidity.
Don't brush right after drinking or eating. Increased acid that can occur right after drinking or eating can immediately soften tooth enamel, but saliva can neutralize and help restore minerals to tooth enamel within an hour. Brushing during this period could remove tiny bits of the enamel's minerals.
Taking these precautions will help keep sports or energy drinks from eroding your tooth enamel. Once it's gone, you won't be able to get it back.
If you would like more information on protecting your tooth enamel, please contact us or schedule an appointment for a consultation. You can also learn more about this topic by reading the Dear Doctor magazine article "Think Before You Drink: Sports and Energy Beverages Bathe Teeth in Erosive Acids."
By Geary Dentistry
January 18, 2018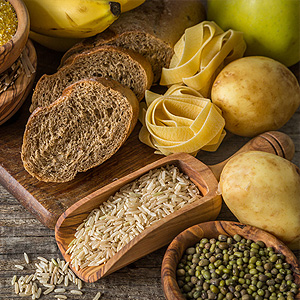 If you've had issues with periodontal (gum) disease, no doubt a few things have changed for you. You may be seeing us for dental cleanings and checkups more frequently and you have to be extra diligent about your daily brushing and flossing.
There's one other thing you may need to do: change your diet. Some of the foods you may be eating could work against you in your fight against gum disease. At the same time, increasing your intake of certain foods could boost your overall oral health.
The biggest culprits in the first category are carbohydrates, which make up almost half the average diet in the Western world, mainly as added sugar. Although carbohydrates help fuel the body, too much can increase inflammation—which also happens to be a primary cause of tissue damage related to gum disease.
Of course, we can't paint too broad a brush because not all carbohydrates have the same effect on the body. Carbohydrates like sugar or processed items like bakery goods, white rice or mashed potatoes quickly convert to glucose (the actual sugar used by the body for energy) in the bloodstream and increase insulin levels, which can then lead to chronic inflammation. Complex or unprocessed carbohydrates like vegetables, nuts or whole grains take longer to digest and so convert to glucose slowly—a process which can actually hinder inflammation.  
Eating less of the higher glycemic (the rate of glucose conversion entering the bloodstream) carbohydrates and more low glycemic foods will help reduce inflammation. And that's good news for your gums. You should also add foods rich in vitamins C and D (cheese and other dairy products, for instance) and antioxidants to further protect your oral health.
Studies have shown that changing to a low-carbohydrate, anti-inflammatory diet can significantly reduce chronic inflammation in the body and improve gum health. Coupled with your other efforts at prevention, a better diet can go a long way in keeping gum disease at bay.
If you would like more information on the role of diet in dental health, please contact us or schedule an appointment for a consultation. You can also learn more about this topic by reading the Dear Doctor magazine article "Carbohydrates Linked to Gum Disease."
By Geary Dentistry
April 14, 2017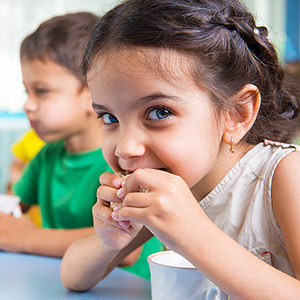 Good nutrition is essential for your child's developing teeth and gums as well as the rest of their body. You do what you can to provide them not just nutritious meals but also healthy snacks for other times of the day.
But once they begin school, you can't watch out for them all the time. They could be away several hours where they might be tempted to make unhealthy snack choices.
What can you do to lessen their chances of unhealthy snacking at school?
Engage with the school and their snack offerings. A set of U.S. Department of Agriculture regulatory guidelines called Smart Snacks in Schools sets minimum nutritional standards for snacks offered on school grounds. These guidelines promote whole grains, fruits, vegetables and low-fat dairy products and limit calories, fat, salt and, of particular importance to dental health, sugar. The guidelines, though, are only a minimum, so join with other parents to encourage your school to exceed those snack nutrition minimums whenever possible.
Educate your child about nutrition. Good nutrition starts at home: it's important not only to offer wholesome foods but to also teach your child why some foods are better for their body (and their teeth) than others. By encouraging a lifestyle of healthy eating both in practice and knowledge, you'll find it easier to set limits on their snack choices away from home.
Send snacks with them to school. If you're unsure your child will make the right choices, especially if they're young, than send snacks with them to school. Be sure, though, what you're sending is as appealing as the school choices. Try a little creativity: popcorn with a zing of cinnamon or cheese; decorative snacks; or easy to eat bite-sized fruit or vegetables. The more they like what you're sending, the less likely they'll choose something else.
In some ways snacking could be the Achilles' heel in providing your child the right foods for good dental health. By following the tips above, though, you can help raise the chances they'll eat the best snacks for strong teeth and gums.
If you would like more information on nutrition and dental health, please contact us or schedule an appointment for a consultation. You can also learn more about this topic by reading the Dear Doctor magazine article "Snacking at School."